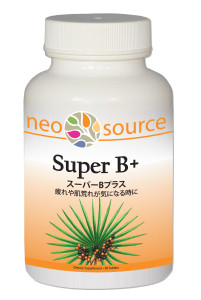 SuperB+™ is a gentle holistic blend of natural ingredients for men and women. Formulated with  beneficial ingredients for energy, skin health and concentration, SuperB+ also supports healthy heart function, strong muscles and concentration and is designed to be used in combination with other NeoSource products.
For Men and Women
B-vitamins are essential for everyone. They provide energy for brain cells by increasing mitochondria and choline which help protect the brain. Sufficient levels of Vitamin B are essential in managing stress. SuperB+ also includes saw palmetto berry has been traditionally used to support a healthy male prostate and to address cystitis in women.
All the B vitamins are very important during pregnancy. Thiamine (B1) is important for your own health, as well as very important for your growing baby's nervous system and heart. Riboflavin (B2) is important because it can help prevent low iron and anemia, which are common during pregnancy. Your growing baby takes a lot of riboflavin, leaving you with less. Niacin (B3) is very important for baby's development, and very easy to obtain in the diet. Vitamin B6 is known for eliminating morning sickness. B12 is an important vitamin that can really help with the low energy associated with pregnancy.
Research indicates that eating healthy, exercise, and adding nutritional supplements included in SuperB+ are effective in avoiding common health problems for men such as prostate enlargement, impotence, sexual stamina, and hemorrhoids. SuperB+ is a safe alternative to recently popular ED drugs, which come with a long list of warnings particularly for cardiac function. Often erectile dysfunction (ED) is due to a dietary deficiency of vitamin B complex. SuperB+ is a safe, natural vitamin/herb blend that allows your body to fix itself. It's a safe choice and several customers have endearingly referred to SuperB+ as "fix-a-flat".
Take SuperB+ to optimize your body's natural healing system. SuperB+ is a unique combination of vitamins, herbs, and nutrient rich sea vegetables formulated to work naturally body systems responsible for strength, stamina and brain function.
Suggested Usage
As a dietary supplement take 2-3 tablets daily with meals.
All the information and articles on this website are intended for educational purposes only. They should not be regarded or relied on as medical advice. This information has not been evaluated by the FDA. QGI products are not intended to diagnose, treat, cure or prevent any disease. Results may vary from person to person. Please consult your health practitioner if you have health problems.